The Witcher: Netflix's Answer To The Mandalorian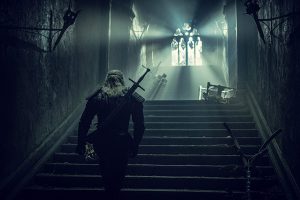 The Witcher Can Not Be A Coincidence
Regardless of the source material and its adaptation here, The Witcher is so blatantly an attempt to imitate The Mandalorian for Netflix that I'm amazed no one is making a stink about it.
Obviously, it has its own identity, but the show has such an abundance of similarities, both in presentation and the way it handles characters. Mando and Geralt are wandering, hyper-talented or special in some way bounty hunters. One fights monsters, yes, but they both hunt something for money—and seem to care little about anything else at first.
The Witcher Has So Many Mandalorian Parallels
They even look similar. They both are soft-spoken and big and hulking. Furthermore, they both spend the first few episodes jumping from location to location, handling self-contained stories, but are clearly going to pick up a young ward to protect later in the plot.
But, and here's the funniest part of it: The Witcher is a better show.
The Witcher Brings Way More To The Media Table
While The Mandalorian has Baby Yoda, and I will not besmirch his name, The Witcher has simply a more interesting protagonist and side characters. Though the attention to detail is great in The Mandalorian, Geralt has a lot of actual conversations—and The Witcher has the best dialogue I've seen on television in a long time.
In fact, I'd go so far as to say The Witcher saved high fantasy for me. There's a reason people connect this to Game of Thrones: it's got the same degree of moral complications, realistic and brutal showing of violence, and interesting worldbuilding.
The Witcher Is Complex Dark Fantasy Done Well
The Witcher is also the best video game show yet made. I'm led to understand the story is taken much more from the books than the games—but the structure of the show is essentially quests given to a player character, with moral choices and boss monsters and hidden items. The first episode reminded me, to no small degree, of moral choices presented in Mass Effect.
Now, credit to The Mandalorian: the world and aesthetics of The Witcher are super bland a lot of the time, but the deft character writing and weighty topics shown through them save it. There's not a flat character here to be seen. Though it's jarring to have an exposition dump happen so often from them at first, a lot of side characters go into beautiful or poignant rants or occasionally brilliant quips. The more important side characters get fascinating arcs as well, with Yennefer's trip through an interesting magic system being a standout for me.
The Witcher Is A Higher Class Of Genre Fiction
This is just a good, entertaining fantasy show. Worthy of taking up Game of Thrones mantle as the new adult-oriented genre series to binge. It blew me away with its subtle brilliance. Give it a chance, even if it does not seem like your thing. It's a good time to be a nerd when stuff like this is available.
Possibly Related Posts:
Comments