The Walking Dead: Walk With Us
First Aired March 15th, 2020
As Hilltop burns, Alpha's (played by Samantha Morton) walkers advance; the group fights and manages to slow the advance with a makeshift barricade of walker bodies. Judith (played by Cailey Fleming) stays behind to fight but hesitates to kill a Whisperer when her mask falls off. As Hilltop burns, the survivors escape.
In the morning, The Whisperers kill any wounded in order to add them to the horde; Negan struggles with basic Whisperer skills such as leading walkers. He runs into Aaron (played by Ross Marquand) who is enraged when he sees Negan dressed as a Whisperer but approaching walkers allow Negan to escape; he later finds and captures Lydia (played by Cassady McClincy).  Alden (played by Callan McAulffe), Gamma/Mary (played by Thora Birch), and Kelly (played by Angel Theory) end up separated together. Alden has Mary's nephew and when his constant crying threatens to attract walkers, he finally lets her hold him. Mary enjoys a few minutes of connecting with her nephew when they're attacked by walkers. Mary leads them away and kills them only to be murdered by Beta (played by Ryan Hurst). Beta waits for her to reanimate but Alden puts her down with an arrow. Then Beta escapes.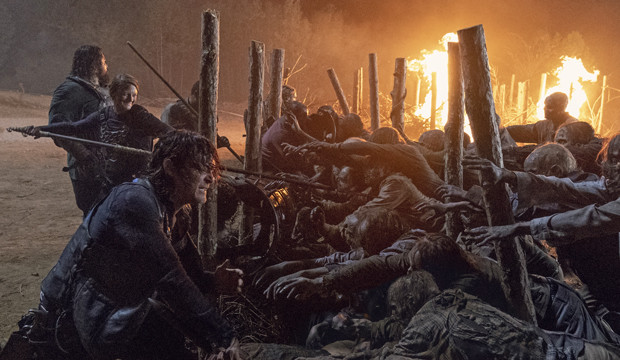 Like I figured, no major characters died in the initial battle of Hilltop, it was so confusing I didn't think anyone did until the next scene. Negan was like the bumbling new employee struggling to impress the boss and messing up at every turn. It's lucky for him he found Lydia, which should earn some brownie points, especially since Aaron's angry reaction burned his bridges with Alexandria. Mary was finally becoming a more integrated character with more storylines that needed exploring, but that's also what made her death so unexpected. The storyline she would have had played out within her final ten minutes; acceptance by the others, reconnect with her nephew and dying a heroic death. While I understand the need to kill characters to keep the story moving in this kind of show, I can't help but feel Mary had more story. This kind of death would have had more impact if we'd gotten to know Mary longer, but you can't say it wasn't a memorable way to go.
Yumiko (played by Eleanor Matsuura) reunites with Magna (played by Nadia Hilker), who she spotted among the horde in a makeshift Whisperer mask in Hilltop. Magna says she and Connie (played by Lauren Ridloff) used the masks to move through the horde but got separated. Yumiko takes out her anger on Carol (played by Melissa McBride). Magna and Yumiko talk, and it becomes clear they're earlier problems are still an issue. Carol speaks with Eugene (played by Josh McDermitt) and encourages him to go after the woman he spoke to over the radio and finds Lydia's fighting stick on the ground. Daryl (played by Norman Reedus) and Rosita (played by Christian Serratos) go to where Ezekiel (played by Khary Payton) was supposed to bring the children, but they aren't there. Earl (played by John Finn), who adopted Mary's nephew, has the children but Judith discovers he's been bitten; she offers to help put him down but he doesn't want to put her through that and sends her to watch the others. Judith checks on him and finds him reanimated; Daryl arrives with Ezekiel and Jerry (played by Cooper Andrews) and comforts a despondent Judith.
The glimpse Yumiko had of Magna among the walkers I figured was a hallucination (something done a few times before). I wonder if we'll get flashbacks to her and Connie's escape because it sounded harrowing the way she told it. Best I can remember, they're original argument was something Magna lied about before the world ended, there are so many side stories it's hard to keep track. But that long-ago problem is enough to end the relationship for now, who's upset or cares? Eugene picked literally the worst time to run off and find his new crush and I hope we don't get half an episode of him going to meet her. With Earl's death, I had two thoughts; first is I can't believe he botched his suicide so bad and the second is Mary's death seemed even more wasteful. Earl's death could have opened the door for Mary raising her nephew herself and would have been a great story for her and we'd have still gotten a character death for the episode; Earl wasn't a major character but he'd popped up enough that you recognized him.
Negan tells Alpha he found Lydia and she's pleased. He talks about his wife's death from cancer and chastises Alpha's insistence that she doesn't have emotions despite her claims that Lydia must die. Lydia finds herself tied to a chair and escapes but isn't where Alpha and Negan are. When Alpha realizes Negan lied, he creeps up behind her and slits her throat. Negan then brings Alpha's reanimated head to Carol who remarks that it "took him long enough."
I was upset Alpha died only because she was such a dynamic villain and I wanted to see more of her, but sadly it was painfully obvious Negan was going to kill her. The entire conversation was basically Negan steeling himself to kill her and listing the reasons why. Had they had this conversation earlier in the episode or in a different episode it would have been less obvious. But there was one twist when it turned out Negan was Carol's hired gun, which I can't wait to learn more about. And, although Alpha is gone, Beta is a beast and he'll lead the Whisperers just as viciously, if not more so.
Quotes/Thoughts
"Do you know what it feels like to want something so bad and to go after it with everything you have, piss of everyone, literally everyone, maybe get people killed and still you have nothing to show for it?"
A Whisperer saw Beta's unmasked face and seemed to recognize him, so Beta killed the man; this mystery man just got way more interesting.
"Me, I am dead to this world. But you? You are pretending."
Will Beta call himself 'Alpha' now that he's in charge?
Possibly Related Posts:
Comments