The Irregulars: Strong Premise, Terrible Show
The Irregulars Is A Show Of Squandered Promise
I want to be kinder to The Irregulars. The premise of the show is so cool, the ideas off the wall, but the execution is always the crux—and it's just not there. I appreciate the colorblind casting and the attempts to be unique in its subject matter. That's refreshing. I just wish the surrounding show was better.
But let's go into the plot and directing, shall we? Because this show, at the time of writing, is quite popular.
And that's almost assuredly because of that premise. Mixing paranormal with Holmes and then adding a love triangle is one heck of a powder keg—and the show does deliver on some of that. Just enough to get people into it who aren't jaded like me.
And, for those people, I'll be fairer. I'll start with positives and work my way to all the issues.
Let's Talk The Good Stuff About This Odd Show
So, what's good? Well, the writing occasionally is interesting. This is a mystery show. The plots play out like normal cases you might see in Sherlock Holmes, but with supernatural twists.
And those twists are clever. The Irregulars is also delightfully low-level horror. When the show is at its best, it plays out like an older Doctor Who episode. I'm reminded of things like "Tooth and Claw" and "The Waters of Mars." There's that familiar fun of something wild going on and the cast having to gather clues and solve problems with ingenuity and conversations.
But that's where my big compliments end. Let's cut to the throat.
The Irregulars Is Just Not A Very Good TV Show
First off, the mysteries lack something in most cases. I know it's a trick that's become cliché, but there's a reason shows like Psych and Monk have red herrings. It keeps the tension up and makes it feel like an investigation, not a breadcrumb trail to a eureka. Even Doctor Who will put in slight detours and have the Doctor make mistakes. The Irregulars simply lacks that tension. The main character, despite not being established as a genius, is way too quick to figure out solutions. It feels like someone's reading the script. They remedy this in episode 3, but by then I was already soured, and I don't have great faith in later episodes.
This problem might be spawning from another, larger, cascading problem. The Irregulars is just not managed well on a moment-to-moment basis. The pacing, the direction, the cinematography is off. Like, a low budget can be overcome with skill, but here the cheapness is glaring. The CGI and camera tricks look often quite awkward. I wish I could say the acting outweighs it, but that's also a mixed bag. From episode one's melodramatic villain to blasé "sisterhood" moments, there's something wrong in the direction given. It's not the actors necessarily, but there's something slapdash about this show.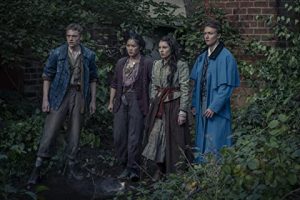 A Show Made Awful By So Many Small Problems
And what ruins the immersion further is the choice of soundtrack and dialog. This show has moments of modern music, and the characters will slip into very current conversational patterns. This might have been tolerable if it was consistent and deftly done, but other characters are from right out of a period drama, and others just straight up cliché stereotypes.
This adds up to the worst of Sherlock, Doctor Who, and Syfy's back catalog blended into a bad AU fanfic. It's a low-tier urban fantasy with a botched gimmick. This could have been something, but watching The Irregulars feels like a waste of time.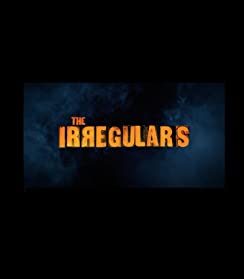 Possibly Related Posts:
Comments