The Cuphead Show! A Delight From The Past
The Cuphead Show! Revises A Mostly Dead Genre
The Cuphead Show! is an anomaly in the modern media landscape. Not because it's a cartoon adaptation of a video game—that's becoming a lot less rare. No, The Cuphead Show! is unique because it's a classic cartoon made in the modern day.
And when I say classic, I mean Tom and Jerry. I mean slapstick, extremely expressive characters, and quick, under twenty-minute stories. Watching it invoked a deeper level of nostalgia than I could've expected. There are franchises like Stranger Things and Ready Player One that use a lot of iconography from a certain era, and then there's feeling you've employed a time machine.
Attention To Nostalgic Details Is Really Incredible
The show commits to this aesthetic. They fake projector issues—little white flickers on the screen—and the character designs stay era-appropriate. The dialogue is simple, and, for lack of a better word, "timeless." None of that meta-winking pop culture stuff here. Except for some obvious and necessary updates and the animation being modern-day polished and smooth, it could've come from that era.
And, honestly, this alone would be enough for me to recommend it. It's just too unique an experience to see an old genre done perfectly. Novelty carries it all by itself. But The Cuphead Show! also has a cast of memorable characters.
The Cuphead Show! Has A Fun And Eclectic Cast
Cuphead and Mugman are your classically likable protagonist duo, but the Devil is the standout character. He's somehow both menacing and delightful. He reminds me of a classic Disney villain, employing the same level of camp and bombast. It's the true strength of animation that artists can pour so much personality into simple designs and movements. A ton of love went into making everyone from Elder Kettle to the boxing frog duo, Ribby and Croaks.
But, beyond that, perhaps the most important question is "how's the comedy?" Is The Cuphead Show! funny? Well, yes, and no. The slapstick formula has a short shelf life, and I know few who can make it work constantly. You must be in the mood for it. That said, episode two, "Baby Bottle," has some of the most delightful cartoon violence I've seen in years. During its peak string of hijinks, I was cackling like Lisa and Bart with Itchy and Scratchy. The Cuphead Show! understands that the classics had a slight air of darkness. Cartoon violence is funny because of the sheer over-the-top nature of both impact and fallout. There's no gore in this show, but boy does it look like it hurt.
I didn't know the world needed The Cuphead Show! but it's got just the right mindless fun energy. Find some sugary cereal, play the first episode, and you'll be smiling in no time.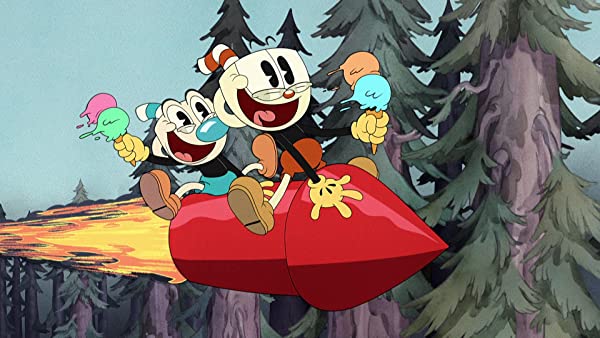 Possibly Related Posts:
Comments