5(+2) Sci-Fi/Fantasy Things To Stream This Christmas *Updated!*
(It's been a while, and this article needed an update. So, we've added two more things to stream this holiday season.)
For fans of sci-fi and fantasy, there may not be that many go-to Christmas television episodes and movies that tickle our unique sensibilities, but that does not mean it is all hopeless. This is the season of hope—and of giving, too. And, as my present for you dear reader, here are five holiday-themed entertainment recommendations, should you want something a little nerdier, a little darker, or just slightly off the beaten path from the usual Christmas fare.
The Chronicles of Narnia: The Lion, The Witch and The Wardrobe
Once the story gets going, this movie oozes Christmas. The snowy lamppost at the entrance to Narnia is still a memorable visual, and I can't think of another film where Father Christmas deems to arm children with weapons. If that doesn't make it worthy of being tied to the holiday, I don't know what will. So, step back into Narnia once more, for a little other-world holiday fun.
Codename: Kids Next Door Season 5, Episode 5: "Operation: N.A.U.G.H.T.Y."
This single episode of Codename: KND lives rent-free in my head. It's got pitch-perfect parodies of several Marvel characters and, hilariously, Cerebro. It even continues the first "ship" I ever rooted for: the paring of Numbuh 3 and Numbuh 4. It's a little harder to get online nowadays, but it's dripping with the perfect blend of Christmas and weird sci-fi action.
Doctor Who 2005 Christmas Special: "The Christmas Invasion"
Any of the Doctor Who Christmas specials could be the ticket if you want a sci-fi adventure with a Christmas twist. But, personally, I'm partial to David Tennant's first outing, as it may be the only time a citrus fruit defeated a sword-wielding alien. If that doesn't do the trick for you though, then an attacking Christmas tree might just be enough to put you in the holiday spirit.
Futurama Season 2, Episode 4: "Xmas Story"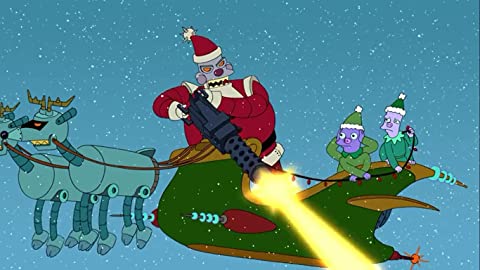 If you haven't seen this episode yet, then you don't know of one of the funniest versions of Santa ever put on television. In classic Futurama fashion, it's both clever, warped, and utterly absurd. "Xmas Story" is only a normal-length television episode and deserves more attention. Do yourself a favor and get out the eggnog and try not to snort it out your nose with laughter.
Invader Zim Season 2, Episode 1: "The Most Horrible X-Mas Ever"
I mean, what's not to like about an evil monster Santa? Christmas has gotten a few horror-style stories to add to its canon, but this is the only one good for all ages. Invader Zim probably influenced—or warped—a large chunk of my generation, including me. If you're craving a Christmas story that goes against the usual fare, then find this little nugget of Lovecraftian Christmas madness.
Tim Burton's The Nightmare Before Christmas
You might already watch this one; it's a massive classic. But, for the five of you that have not seen this film—I had to include it on the list. Don't let the name throw you, despite having "nightmare" in the title, this is a true Christmas movie. Full of iconic characters, fun songs, and impressive stop-motion animation that still to this day looks impressive, it's a spooky way to get into the Christmas spirit.
The Twilight Zone Season 2, Episode 11: "The Night of The Meek"
This is going back, way back to the black and white era of television. But it is also a solid story, with a truly lovely ending. And, if you haven't gotten into the Twilight Zone yet, I can think of no better time to start than this Christmas season. Give it a watch, I promise you'll forget all about the old effects, as this story overcomes those limitations by sheer lovely Christmas cheer.
There you go. I hope at least one of these makes your day merry and lovely and warm.
And, from us at Sci-Fi Bloggers to you:
Happy Holidays And Merry Christmas!
Possibly Related Posts:
Comments