The Top Ten Ways the World Is a Lie
WARNING: SPOILERS AHEAD!
We've all contemplated it at one point or another, tossed the idea back and forth in our minds. You know the one, the concept that this beautiful world in which we're living is, in actuality, an elaborate fabrication. It's that eerie suspicion that something this complex, this intricate, couldn't possibly be real. At one time, thoughts like these were considered briefly and then just as quickly cast aside. Now, however, science fiction has opened up a variety of doors that provide ample validation of those fears. Could it all be a lie?
The most chilling part of this is that we can't truly prove any theories on the matter wrong. How can a brain in a jar know it is brain in a jar?
It can't.
But even if we can't know for sure, we can certainly guess. So, in that mindset, I welcome you to…
The Top Ten Ways the World Is a Lie!
(NOTE: This list deals with movies and television shows specifically.)
Number 10: Chester's Happy Helmet from Codename: Kids Next Door
Created by the villain Chester, this helmet simulates a perfect world for the child to live in. Seems innocent enough, but what's it for? Ah, of course, a method of making sure that children remain quiet and do not bother their parents. It is, in essence, a child neglect machine, and that's just plain wrong. Also, knowing Chester, it's probably way overpriced.
Number 9: Demon Venom from Buffy the Vampire Slayer
Injected through a long spike, this stuff will definitely throw you for a loop. It slowly splits one's consciousness into two parts, one of which exists in the real world, the other in a false duplicate. The sick part is that the only way to put an end the dual worlds is to either kill or submit. Essentially, those who've been "copied" are convinced that there is only one way to "break out" of the two versions of reality: to kill the duplicates of everyone they have an attachment to. Even if they do though, whose to say that they weren't real?
Number 8: The Box from Dexter's Laboratory
Showing up in a truly surreal episode of the show, Dexter ends up shrinking down his parents and placing them in a model house to study them. The two are constantly tricked and made to believe that it is just a normal day. While that's odd all by itself, the real mind twist comes in at the end when Dexter notices that there is something off.  He glimpses a massive eye looking through his window, and we are left to ponder who the real test subjects are.
Number 7: Saved from Doctor Who
How does a powerful supercomputer with teleportation technology prevent hundreds from dying? Well, she saves them, of course, only she takes the definition very literally, downloading hundreds of people's genetic structures into her immense mainframe. She is even kind enough to give them happy, perfect worlds. The only problem is that she is breaking down with the strain of them. That and she neglected to tell anyone, even the people inside.
Number 6: Reality T.V. from The Truman Show
This one is especially paranoia inducing, not only because our entire world a fabricated lie, but also for the fact that we are being watched and judged. Every time that you think you are alone, even during your most private moments, someone could be watching. It's unsettling and creepy, but be honest with yourself, you would probably want to know what the ratings were.
Number 5: Subliminal Messages from They Live
All of the things you look at and touch are compelling you to do their will. You are not aware of it and will never be able to tell. Like a living clock, your life and schedule are completely controlled. Everything you do could be forwarding evil schemes. Ask yourself this: why did you forget to buy that quart of milk? Was it simply a mistake, or was it all for some Calcium Deficient Bug Queen!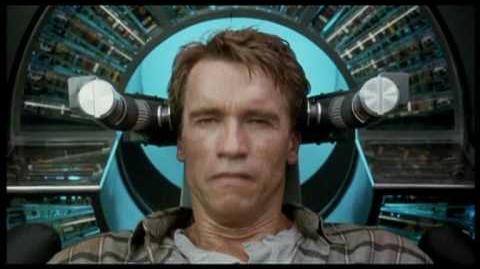 Number 4: Fake Memories from Total Recall
If you can't trust yourself, who can you turn to? No one, and that is quite a frightening prospect. Everything you know and understand could have just been built five minutes ago, memories implanted in your head for some grand purpose. Now, sure, you could be lucky and discover that you used to be a super spy and your body still has some of those skills, but the chances of that are slim.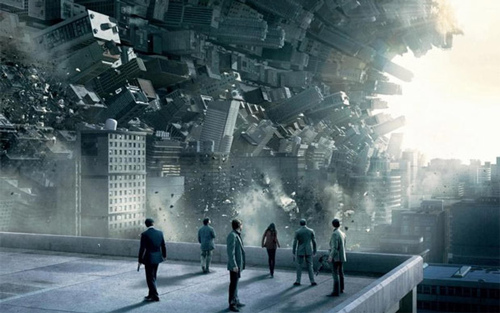 Number 3: Dream World from Inception
The question isn't whether or not it is a dream, rather how long one has been asleep. Everyone wants to escape into a world of fantasy, but that does not remove aging from the equation. Those phantom pains you keep having, that strange little jolts down your arms and spine? Could just be growing pains, or perhaps something on the outside is touching you, gripping you. I'll leave you to decide.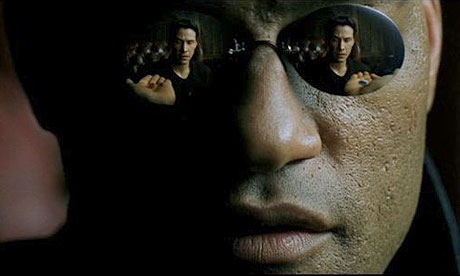 Number 2: Computer Simulation from The Matrix Trilogy
Your nerves run on electricity. So does your brain. Oh, and what a coincidence, so do computers. A match made in Heaven, right? Wrong, because your body can be tricked. Send just the right signal and you could swear your arm moved a moment ago. A more complicated burst and you could vow that there was a computer in front of you. Feel the mouse beneath your pulse. Feel the tongue sitting on the edge of your teeth. A computer could never simulate all of that, right? Right…?
Number 1: The Snow Globe from St. Elsewhere
Come with me and you'll be in a world of pure imagination. The only issue: whose? Yours? I think not! How could you come up with someone so ridiculous, so prone to sudden changes in  mode and opinion? You could not possibly exist in the normal world. Ah, you know who would love a character like you? Children! Oh, they love imagining such kooky characters, having them play in their own little fantasies. Yes, yes, do what you are imagined to. The only thing you need to worry about is if he gets bored of you. There's no afterlife for imaginary friends.
Paranoid now? Don't worry. The world is real, I promise you. There is nothing to worry about, no evil conspiracies here. The planet is not going to suddenly drop away from you, and you won't be waking up from anything.
After all, I'm just your computer screen, your trusty supplier of information, always in your home, watching your every move, here to keep you safe. You can trust me.
Would I lie to you?
Possibly Related Posts:
Comments