The Best White Cards In Phyrexia: All Will Be One
Let's Start Our Quest Into The Dangerous Phyrexia
And here I thought The Brothers' War was a powerful set. Phyrexia: All Will Be One is ridiculous. They put Phyrexian mana, poison counters, and a lot of superb cards from older sets into this one. It'll cause absolute chaos on the ladder for a long time, with people optimizing for poison wins every way they can, in every color they can. And, if that's not enough, there are many more combos you can pull off with lots of access to proliferate.
This set is so strong that it'll take several articles to cover it. Like last time, we'll examine the cards from an Explorer, Standard, and Historic perspective, with a little Brawl and Commander commentary thrown in for flavor.
We'll start with the white cards.
Annex Sentry
I've learned to fear any Oblivion Ring-style ability long ago, even when it's limited in effectiveness. Four toughness is a solid blocker, and having toxic can threaten an opponent quickly if you have enough tempo.
Charge of the Mites
The only reason I'm impressed by this card is that it's an instant. Catching your opponent off guard with a strong removal spell is already good—but sneaking in an attack for two poison can win games.
Crawling Chorus
As you'll see with more and more of these Phyrexia: All Will Be One cards, white has a serious swarm deck in the making. Crawling Chorus is special because it can replace itself, meaning you're less likely to get blown out by a board wipe. It's also a pseudo 2/2 for one mana when you account for toxic.
Elesh Norn, Mother of Machines
This card is more for Brawl and Commander, but it's also got a good stat line and can randomly shut down your opponent's strategies in fun ways. I'm unsure of what competitive 1v1 deck(s) wants this card, but I'm scared of whatever arises.
Incisor Glider
This goes in the swarm deck I'll keep mentioning. It's a decent enough creature by itself, able to attack and block when needed, but it's the anthem that will ruin people. Play something like Crawling Chorus, get in some poison, and then go wide for the win.
Jawbone Duelist
Toxic and double strike is a combo of abilities begging you to be creative. Fencing Ace saw play in weird combo decks, and this card is a strict upgrade in almost every regard.
Mondrak, Glory Dominus
Like Elesh Norn, this card will be wild in commander-based formats, but even in competitive 1v1, it's a force of nature. Many cards make tokens, and many of those tokens have toxic. Four mana is not a lot for this effect, and it gets so much worse for your opponent if you can pay the indestructible cost.
Ossification
First off, that word means (basically) to harden into something like bone. Second, I'm amazed this card is only two mana. Yes, you need to have a basic land for it to work, but that's not a big ask to take out a creature or planeswalker with little chance your opponent will get it back.
Phyrexian Vindicator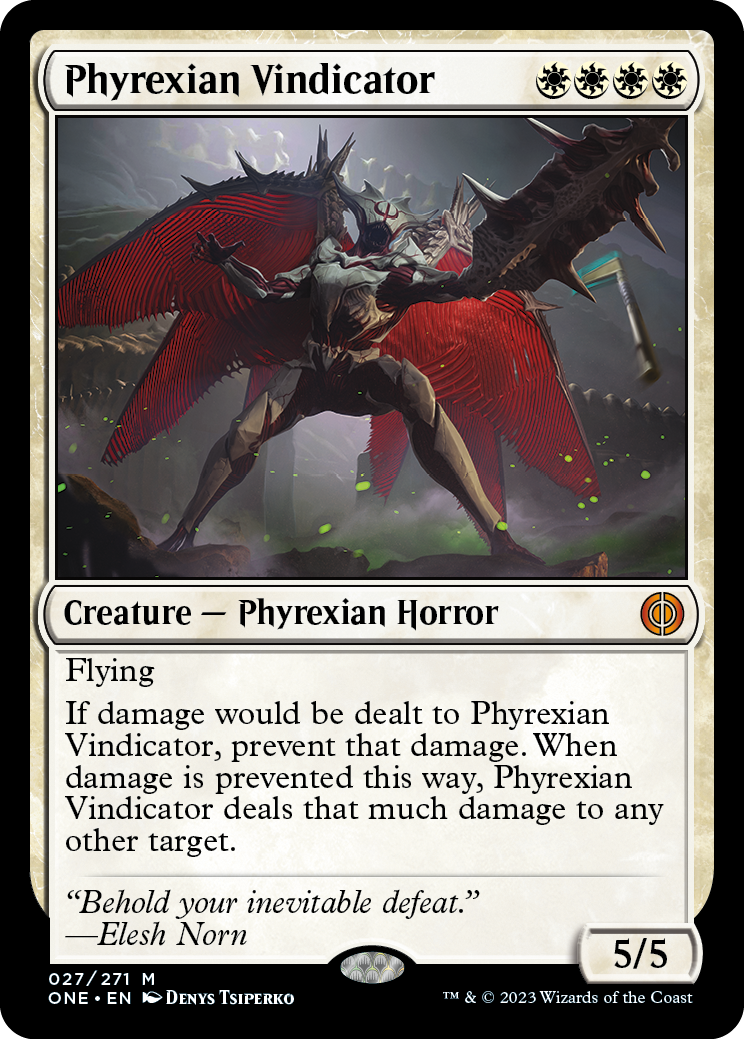 I remember the tricks you could pull with Boros Reckoner; this is almost the same ability on a creature with even better stats. Sure, it's a lot harder to cast, but no one's going to play this outside of very specific decks.
Skrelv, Defector Mite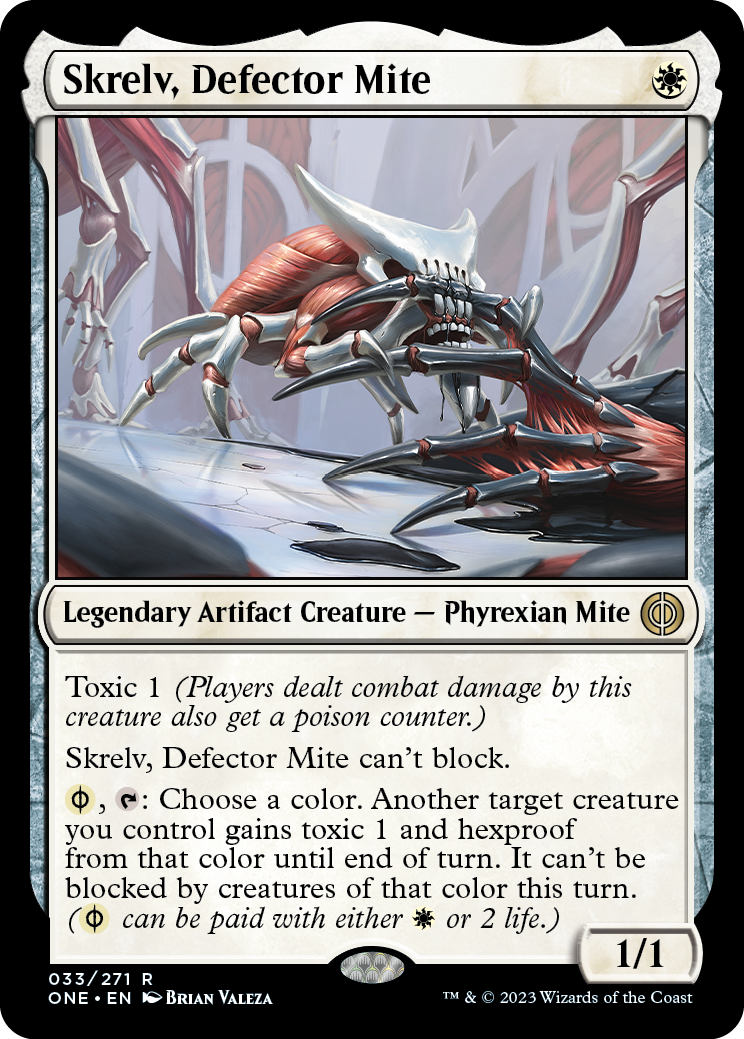 Sometimes I worry about how freaking powerful one-drops have gotten. This card is not helping that worry. It's a toxic attacker when it's alone and basically Mother of Runes when you have a better creature to use it on. I don't know if you've ever played against Mother of Runes, but it gets difficult to block or use removal effectively.
Skrelv's Hive
This is a slightly weaker, slightly different Bitterblossom. If you can get Corrupted going, it's easy to recover the lost life and climb to even higher life totals, effectively closing your opponent out of the game.
---
And that's the white cards. We still have the other colors, plus great multi-colored cards, artifacts, and even some strong new lands. Basically, the next while is going to be all about Phyrexia.
Possibly Related Posts:
Comments