The Best Black Cards In Phyrexia: All Will Be One
Phyrexia Has Even Further Horrors For Us To Meet
I've been playing a lot of Mono-Black Devotion in Explorer lately, so I'm particularly excited about the new cards in this color. Strong removal and interesting ways to steal life from your opponent are a winning combination, and between that and some spicy reprints, this'll be exciting.
So, let's keep the magic (pun intended) going!
Anoint with Affliction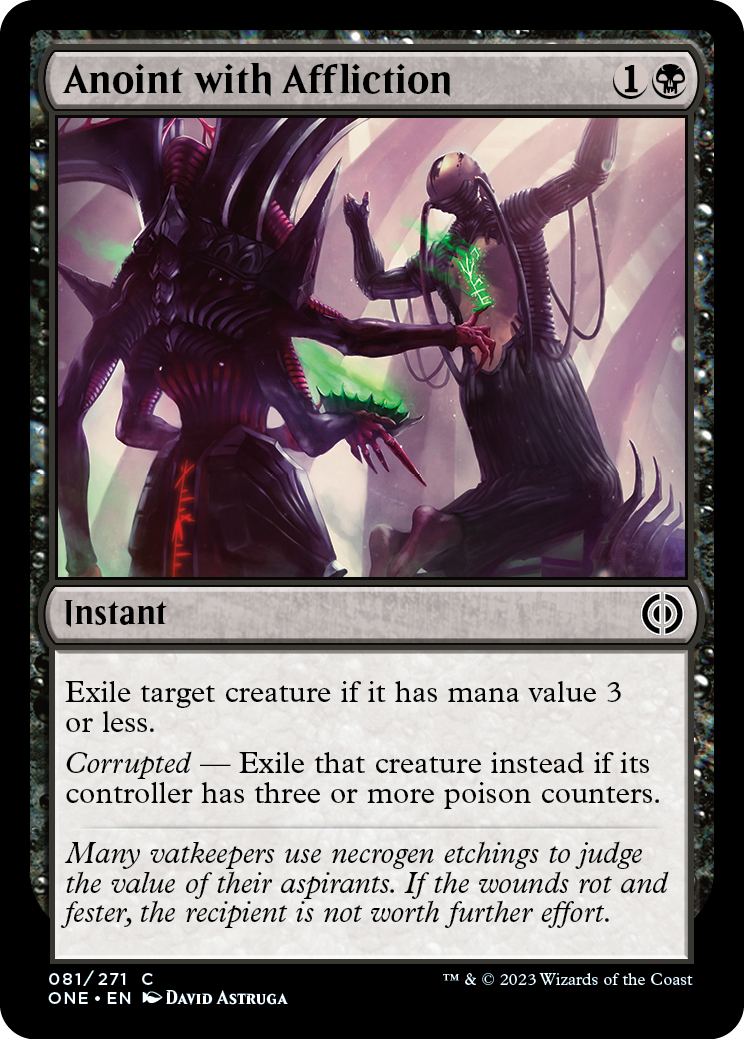 This is an unassuming card, especially in a flashy set like Phyrexia. It's only a black removal spell with some upside. But, comparing this to many other two-mana choices shows a lot of upsides. It exiles, and with its conditions met, it can hit creatures even Doom Blade and Go for the Throat miss.
Archfiend of the Dross
I love creatures like this. Abyssal Persecutor led to such interesting game states, and I'd argue this one is even more entertaining. Do you play pure aggro and kill your opponent before the oil counters would be an issue? Or do you proliferate to extend your life? Or both? Or find a way to sacrifice it? In any case, this card will see play in many formats, at least in a niche capacity.
Drown in Ichor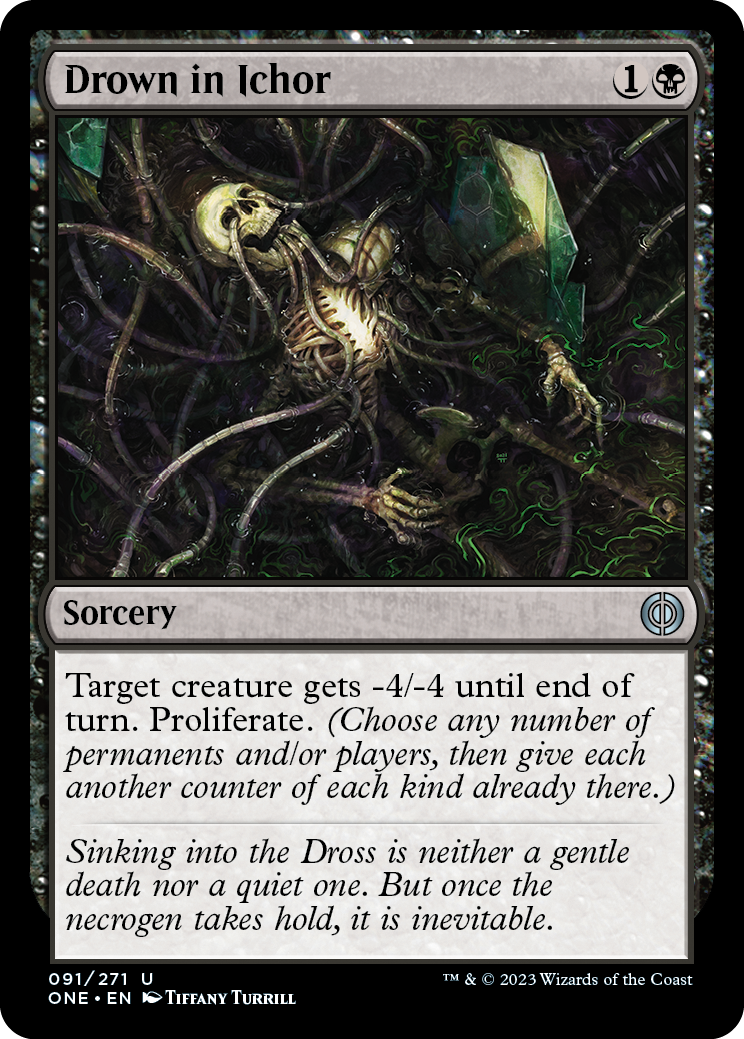 A solid piece of removal (or combat trick) with cheap proliferate attached. What more can you ask for? No idea how many copies should go in a deck, but it seems like a two-of.
Geth, Thane of Contracts
I deeply dislike playing against (or with) Reanimator decks. If you're not packing an answer to that strategy, you have to hope they whiff on the combo (or hope you manage it in time). However, if you like the archetype, this card is a possible inclusion in 1v1 formats. Its real home is Commander, though.
Phyrexian Arena
Such a cool reprint—and it's got a strong story moment in the art. Extra card draw is always powerful, and we might see it get new uses in Standard (or Pioneer if they don't ban it).
Phyrexian Obliterator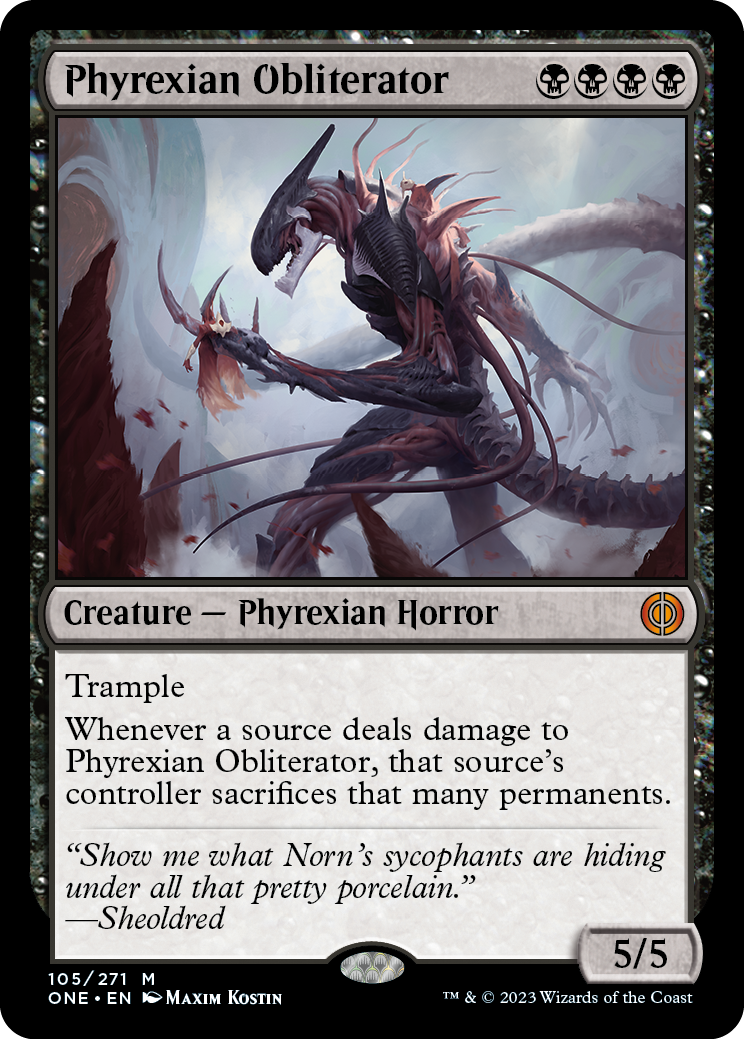 This might be one of the scariest cards to have played against you. If you don't have a non-damage way to kill it, you keep ending up in difficult scenarios. If you're the one playing it, it's hilarious (and devastating) to ping it with damage and ruin your opponent's board.
Scheming Aspirant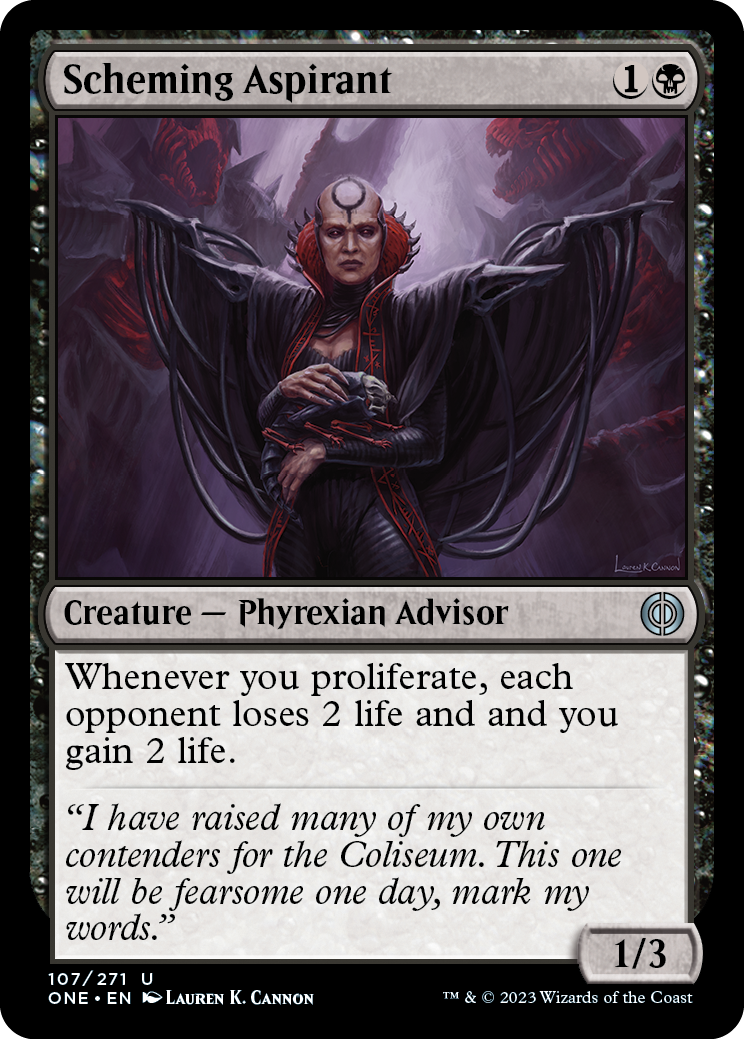 It's possible that the proliferate decks Phyrexia: All Will Be One will produce might be too control-focused to play this card. But, if a more low-to-the-ground deck wants to increase counters, this card will deal so much passive damage.
Sheoldred's Edict
This card caught my eye for two reasons. 1.) It is one of the rare ways to specifically target a token—and there are situations in multiple formats where that ability matters: Marit Lage comes to mind. 2.) It kills Planeswalkers. Honestly, with how many ways there are to do that now, they're starting to not feel that special.
Vat of Rebirth
Being a low investment for a big payoff later, I can see this card fitting in Aristocrat builds or any deck that likes cards like Oni-Cult Anvil. You just play it early, and it's a potential threat for the rest of the game. It also passively benefits from proliferate!
Vraan, Executioner Thane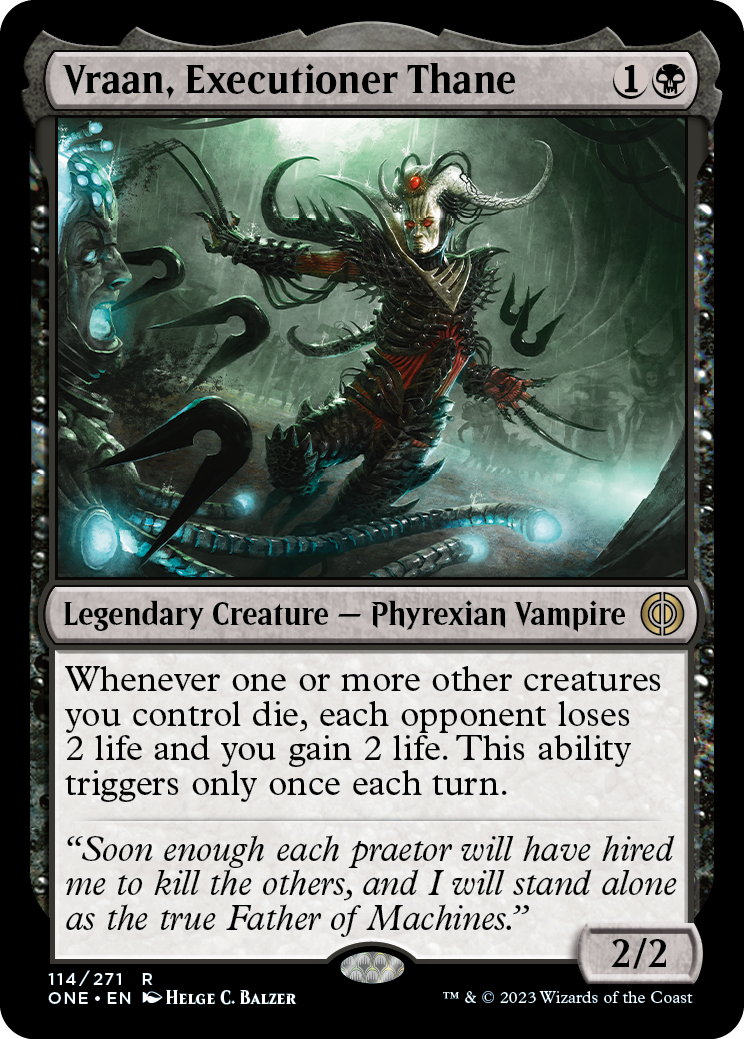 Another candidate from Phyrexia for an Aristocrat build. Pair this with any deck that already likes Cauldron Familiar or Mayhem Devil, and your opponent will not last long.
Vraska's Fall
It's interesting comparing this card to Sheoldred's Edict. They both fit in the same kind of decks but do things just differently enough that you might see both played in the same lists. The poison counter clause is good here in the same way it is on Prologue to Phyresis, but of the two, this is probably the weaker one. Your opponent does get a lot more control over what they sacrifice (usually).
---
And those are the best black cards! It looks like a Dimir proliferate deck is being hand-delivered for some format, and Mono-Black decks aren't going anywhere in all their relevant formats. Nykthos has plenty of new options here.
But what about the new cards for my favorite color, red? Well, come back tomorrow, and you shall see.
Possibly Related Posts:
Comments