Mr. Robot Review: Too Technical?
Mr. Robot Is A Rather Polarizing Show
Mr. Robot is a show with an odd style to it. Brilliant, but boring. Evocative and yet slow. The best show I have trouble keeping my attention on for long stretches.
Because, the storytelling, and even the pacing of the show, tells you one major thing: you are in it for the long haul. Often the dramatic side of things drag out longer than perhaps necessary. The show goes even further with this by having at least the first three episodes end with a cliffhanger.
But, let's step back a bit. What is Mr. Robot about? Well, it's a hacking thriller with, as far as I can tell, a much more realistic understanding of hacking than most movies or shows ever attempt.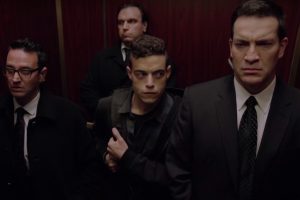 Mr. Robot Knows What It Is And Doubles Down
And, there lies the biggest double-edged sword I found. While the diatribes and speeches and emotional manipulation tactics are all interesting, there's a surprising number of scenes devoted to things moving on a screen.
In the very first episode, we watch our main character stop a hack. And, while I eventually got into the drama of it, it's not that interesting to watch someone type away at a laptop for a while.
Mr. Robot Hopes You Like Looking At Computers
Clearly, this show has an audience in mind—but I'm not quite that audience. And it can be a slog to get to the stuff a non-hacker would enjoy.
If I'm to give one major praise to the show, though, it would be the moral issues Elliot (our main hacker character) hits, and the true-blue anti-hero vibe he has. I was rooting for Elliot by episode three, and just wanted him to be happy, but also have trouble with stuff he does. He's a criminal, a drug addict, and invasive. He hacks into the personal lives of every single person he encounters. But, he also uses said hacking to help people and rip criminals to shreds.
It's certainly thought-provoking if nothing else. I don't know if I can recommend Mr. Robot to the average person—I wouldn't blame you for dropping it after a few episodes—but, if any of this, the hacking, the complicated characters, the serious moral dilemmas, or the slow-burn style interests you, it might be worth your time.
And I can promise you one thing: it'll make you think twice about your personal cybersecurity and using too easy passwords.
Possibly Related Posts:
Comments