"Kerblam!" Revisiting Jodie Whittaker
"Kerblam!" Finally Sold Me On Season 11
I feel I was, perhaps, a little unfair to Jodie Whittaker, and Doctor Who season 11 in general. Going further into the show has led to a lot more fun episodes, and moments for the newest Doctor to shine. The second episode had a great premise; "Rosa" was a freaking brilliant episode and a showcase of excellent acting, and seeing some giant spiders was fun and even a little scary.
But we are not here to talk about that. Because, despite "Rosa" being the best episode so far in the season, it was not the one I had the most fun with so far. No, that goes to "Kerblam!" An episode that I initially discredited because of its silly title.
"Kerblam!" is my favorite kind of Doctor Who episode. It does interesting things with social commentary, manages an effective plot twist, and sets up and pays off Chekov's guns cleverly. Oddly enough, though, the thing the episode did that made me like it, was a subversion of the usual ways a Doctor Who episode tends to go. I realize that sounds like a paradox but stay with me here. They arrive at a new place, something is going wrong—people are dying—and then they find the evil thing at the center of it and the Doctor stops it.
"Kerblam!" Shows Off What The Show Does Best
That's bog-standard Doctor Who.
But, here's the thing: every usual beat is subverted. The villain, the nature of the danger, the commentary even. So much is handled with an understanding of expectations and deviating from them, but without an urge to be random or contrarian just for the sake of it.
It's also overall well written. The episode works around the issue of coincidences—a big problem in Doctor Who. Like, right off the bat, they acknowledge it would be near impossible to find the source of the distress call—there's too much space and too many people—and they stick to that. No cheating. The solution is logical. It's clean, uncluttered storytelling.
"Kerblam!" Skirts Common Doctor Who Clichés
The TARDIS isn't even incapacitated. It's not damaged, recharging, or destabilized. They left it outside the building and could feasibly get it at any time. There's just no reason to do so because the Doctor would not abandon people in trouble.
That's how you write a Doctor Who episode.
It's just good.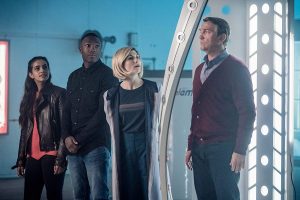 "Kerblam!" Delivers A Surprisingly Nuanced Plot
The story centers on an automated future version of a certain very popular online retailer while never really demonizing it or necessarily saying it's wrong for existing. They even have one character who might be a promotion/endorsement of the service. The Doctor also delivers a speech somewhat defending it. As both a science fiction fan and a person who enjoys tech, the whole message is just spot-on and thoughtful. Actual nuance instead of calling the newest technology inherently bad.
If I were to tell someone where to start with Jodie Whittaker, this might be the one, barring her introduction episode. Like "Blink," "The Eleventh Hour," and "Dalek," it's just a solid entry point for a new fan to watch. Sometimes, I get a little disheartened with Doctor Who when there's a string of too many mediocre episodes, but, despite my initial misgivings, season 11 is shaping up to not have that problem.
Possibly Related Posts:
Comments