Creature Feature Reviews: "Ankle Snatcher" by Grady Hendrix
Recently, Amazon got together six horror writers that you've likely heard of and tasked them with writing short stories about monsters. The collection is called "Creature Feature." And, in anticipation of Halloween, I figured it would be fun to go over each of the books in the set individually throughout the month. Then, we'll see which one is the best of the bunch.
We'll be going over them in the order they're presented, continuing with…
---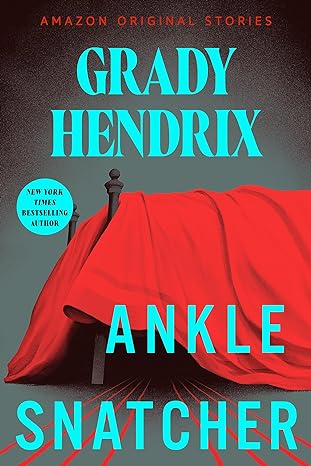 "Ankle Snatcher" by Grady Hendrix
I'm not that easily scared, but "Ankle Snatcher" genuinely freaked me out. The night I read it, I obeyed all the rules outlined about how not to get brutally killed by this monster that lives underneath the bed. It's been a few days since then, and I am still overly cautious when I'm falling asleep. And I don't know of a higher praise for this kind of story than it made me actively change my daily habits out of a slight "well, what if the monster is real?" mentality.
And yes, if you haven't guessed, this is a classic bogeyman story, but very much for an adult audience. None of that half-glimpsed shadow stuff. We don't know everything about the Ankle Snatcher by the end of the tale, nor what all of it looks like, but what we do get is nightmarish, creative, and instantly flashed into my mind's eye as I typed this.
The story also does interesting things with pacing. It's not following what I would call a three-act structure. The timing of when scares happen is not when you'd expect. Arguably, "Ankle Snatcher" could've ended at several points, but the commitment to keeping everything going, exploring the topic more and more, is what makes this story stick in the mind so much. It could've been a whole book, and I wish it was. There's a lot this short story already has to say about violence, culpability, and trauma, and I'd love to see it really fleshed out.
There are a few issues with it, though—most of them in presentation. I mentioned this being an adult narrative, and that's also because of some sexual content. And it felt a little objectifying at times—specifically with some physical descriptions of the main female character. I've certainly read worse instances of this, and it being within a sex scene (and not something else) is semi-justified by the narrative's framework, but because the scene is so pivotal to the narrative overall and goes for as long as it does, it seemed worthy of mention.
But even with those hiccups, at the time of writing, this is the strongest of the "Creature Feature" stories I've read so far. While being one of the shortest, "Ankle Snatcher" delivers a detailed story with several clear themes and doesn't need heavy exposition to get to the scary parts. It's an easy recommendation for anyone searching for a Halloween spook.
Possibly Related Posts:
Comments