Code 8: A Generic Movie With Brilliant Ideas

Code 8 Explores An Awesome World Idea
Code 8 reminds me eerily of Push—but while Push managed some intensely interesting action scenes and a unique take on urban superpowers, Code 8 does that and then takes it to the societal commentary side of things. Unlike other series, powered people are not seen as more, they are seen as less, and that alone makes for an interesting world.
But an interesting world does not make an interesting story, and though at no point was I bored from the film, I was often more fascinated by the implications and the societal systems that only exist in the background than the actual plot. The story, as it is, has a very clear structure, characters have obvious motivations, and the creators manage interesting and understandable turns to Code 8's drama—but it all just sort of happens. Just because the mafia has magic powers, and that robots attack with lethal force, doesn't mean this isn't mostly a generic tale of getting into a seedy underbelly for the wrong reasons. If you've seen a crime drama, you've seen this movie.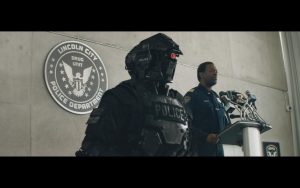 Unfortunately, Code 8 Has A Generic Main Plot
But, perhaps, and this is just a theory, that's part of the point of the story: the society around these people, that put down these people, just keeps going. One man's dramatic life, his turning to crime, and his discovering of himself and what he can do, is nothing in the grand scheme of the system. The power-ist government is still in power, and things will only get worse. Enough thought went into this movie that I'm willing to believe that even the barebones structure was intentional. And, really, regardless of if I am correct, Code 8 is a triumph of a movie because it can invite such thought and introspection of its themes just after one viewing.
Despite what you may expect, Code 8 doesn't feel like a rip-off of X-Men and likely won't contribute to any superhero fatigue you may have.  It's very watchable and entertaining. Don't expect more, though—not yet.
There's real talent here, in both writing and ideas. Should the creators of this try their hands at a full series with this world, I think a new wonderful franchise could be on our horizon.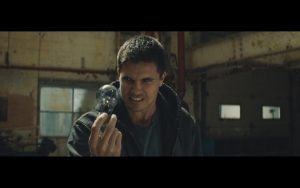 Possibly Related Posts:
Comments