20 Sci-Fi / Fantasy Gifts Fans Will Love
It's the most wonderful time of the year! Get the sci-fi or fantasy fans on your list something they'll really love. Here's a list of cool sci-fi & fantasy themed gifts that are sure to make a great impression!
Note: Some links may be affiliate links. But we never link to anything we don't genuinely think is cool.
And now, in no particular order, here is our list of 20 cool sci-fi & fantasy gifts for the fan in your life.
Mova Globe – https://www.movaglobes.com/outer-space/ – Look mom! No electricity! MOVA Globes are powered by light alone. They rotate peacefully, soothingly and beautifully powered only by light and physics. Check out their Outer Space Collection for the off-world fans in your life.  "From their distinctive graphics to their advanced technology, it only takes one look to realize MOVA Globes are something special."
From Mova Globe – Explore deep space without ever leaving your home with MOVA's Outer Space Collection. The planet globes feature graphics with an astonishing level of detail for a realistic view of planets, moons, and other terrestrial bodies you'd normally see only through a telescope. Each space globe rotates without the use of electricity, creating a streamlined physique for placement in any room of your home. MOVA Globes are a space-themed home decor that satiates the spirit of an astronaut inside of us.
THE SECRET'S IN THE SCIENCE – VIDEO
Each globe has a transparent outer shell made from carefully selected, high-quality acrylic. This external layer remains stationary while an internal one spins using advanced magnets for torque and solar cells to power the movement.
2. Bioware Gear – Give sci-fi and fantasy gear from Bioware games Mass Effect & Dragon Age and do it affordably with their big sale happening now through December 10th for Dragon Age Week. Note that many clearance items, though great deals, are low stock. So if you see something you like, grab it before it's gone. I learned that the hard way.
System's Alliance Double-Sided Pin
The rise of humanity can be described as impressive or alarming; it just depends on who you ask. Though our species is the youngest member of the galactic community, our effectiveness in combat and exploration has earned us respect even among the most powerful races in the Milky Way. Wear your Mass Effect Systems Alliance Double-Sided Pendant to celebrate the organization that made it all happen.
3. Babylon 5 Ranger, Psy Cop & Alliance Pins –
Fans of the hit classic Babylon 5 will love these pins. The Ranger pin is my fav 😉
4. Stargate Earth Segment – this bronze, copper (and plastic) wall plaque will look great on any Stargate fan's wall.
5. Kirk & Spock Jammies – Cosplay every day (or night) with these pajamas in the style of Captain Kirk and Commander Spock's Original Series uniforms.
6. Lego Infinity Gauntlet – Put your own snap together with an authentic Marvel Lego Infinity Gauntlet.
7. "Outlander" Dragonfly – this creative take on the Dragonfly In Amber (not amber) can appeal to any fantasy fan.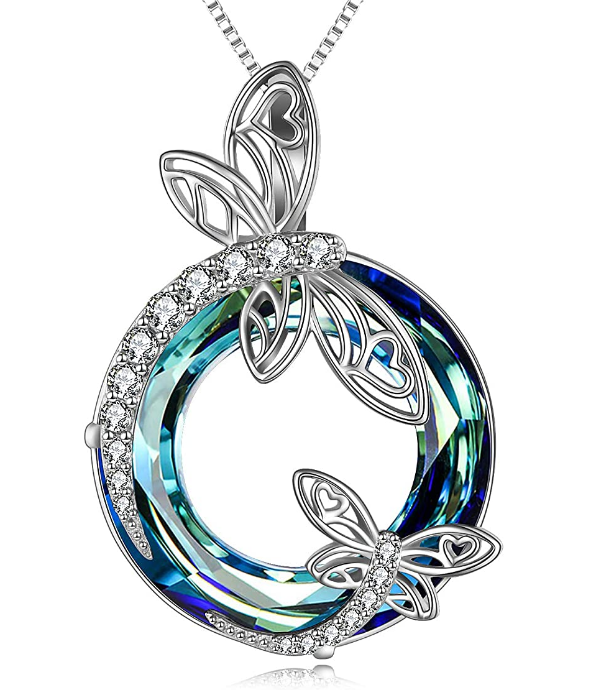 8. Battlestar Galactica Cylon – Have your very own (tiny) cylon standing guard with this BSG cylon replica from Eaglemoss.
9. Blade Runner 2049 Spinner – Remember catching the last of the replicants in this Blade Runner 2049 Skinner replica.
10. Twilight Zone Pint Glass – "This is the dimension of imagination. It is an area which we call…" Need we say more?
11. LOTR Monopoly – Protect Middle-Earth Monopoly-style with Lord of the Rings Monopoly
12. The Expanse Rocinate T-Shirt – Too often fan tees are only available with cuts for men. Fortunately, this one is available for both men and women!
13. The Harkonnen Core Rule Book – DUNE – It can never hurt to know exactly how your enemy thinks.
14. Ferengi Rules of Acquisition – Ever wanted to know what they all were? Here they are, for sale at a tidy profit of course.
15. Mandalorian Collectibles – everything from Mando himself to Baby Yoda (Gorgu – yes. But "baby Yoda" sounds better).
16. Darth Revan Funko Pop – from The Old Republic – Star Wars as it was meant to be. 
17. DC's Berlantiverse Collectibles – Legends, The Flash, Arrow and more!
18. Batman Pewter Hand Finished – It's Batman.
19. Black Mirror Calendar 2022 – Not sure if this will make your days happy, but at least they'll be interesting.
20. Led Lighting – sci-fi up your space with some color changing LED lighting. Many are remote controlled with bluetooth apps, dimming and color changing options. A wide selection is available.
Possibly Related Posts:
Comments