The Luminous Dead: A Polarizing Horror Descent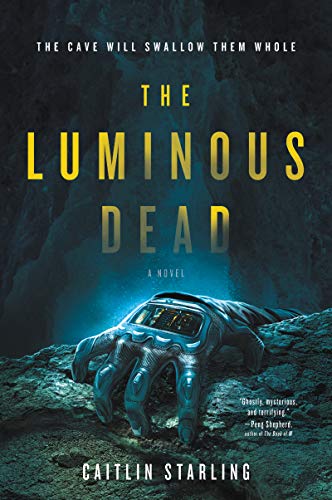 The Luminous Dead Needs A Certain Type Of Reader To Work
The Luminous Dead is perhaps one of the hardest reviews I've done in a long time. The nature of the work has clashed with my usual operations.
To explain, I need to give a little context to my work as a critic. My subjective taste and my critical analysis of media (as far as those two things can even be considered different) have rarely come into conflict. I'll like any piece of media if it feels high enough quality—genre preference be damned. I may not like westerns or crime dramas, but a spectacular one will entertain me even if I never would've sought it out.
But I didn't like The Luminous Dead. For me, it was a slog to get through—constantly tempting me to read something more interesting. But even as I constantly fought that impulse, I low-level acknowledged the skill and appeal of the book. It has more flaws that don't get the same benefit of the doubt, but if someone likes it, I have a pretty good idea why.
The Luminous Dead is what I would call "phobia horror." It's a way of approaching horror that I've seen a lot in The Magnus Archives and B-movies. You pick something people often have a strong negative reaction to and push it to extremes. Spiders, sharks, dolls, etc. It doesn't matter if it's a common fear. It'll give someone nightmares.
And The Luminous Dead chose claustrophobia. The narrative flings it at your face at every opportunity. It spends pages and chapters trying to make you feel cramped, trapped, squeezed. The story's biggest usage of science fiction is a suit built so cavers don't have to leave skin-tight confinement indefinitely. You learn the ins and outs of how boxed in and contained our main character is through multiple skin-crawling descriptions of internal mechanisms.
But I'm not claustrophobic. I don't mind technology being around me, against my skin. Sure, I wouldn't want the level of surgery shown to get people into the suits or spend weeks in said suit, but I'm not viscerally afraid of what this book is selling.
The Horror Concepts Are Often Objectively Strong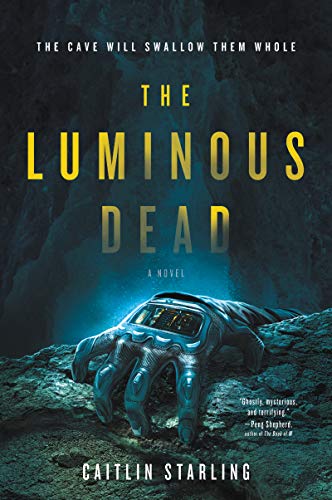 If you are afraid of things like caves, being trapped underground, or even just uncomfortable with tight spaces, though, this book will mess with you on a fundamental level. This precision of targeting has a great reward and a dire weakness.
But it's also not the only horror The Luminous Dead parades around, and it's here where I feel more solid in my criticisms as a critic. Because—shock of all shocks—I read this because I heard it was cosmic horror. And the way it most noticeably manifests in The Luminous Dead is via "Tunnelers."
Tunnelers are a perfect monster idea in theory, while annoying in practice. The book plays a game of not showing you them but constantly hinting at their threat. A mostly unknown force of nature that can and will wipe out entire groups of explorers without ever being seen is peak cosmic horror. It's a phenomenal choice. They're also boring. The book is too long, too full of unrelated stuff, for them to hold the tension such an idea deserves. Even when they sporadically become a key plot point, it may as well have been an earthquake for all it matters. The books blew past them for a whole other subgenre.
This brings me to the final horror aspect of the book: it's also, maybe, a ghost story. I have no idea how well this book handles things like stress's effect on the human mind—or if it's respectful to people who deal with things like hallucinations in real life—but it slowly plays up the cave as a haunted place. There are several should've-been-unnerving sections based on this. Moments of strange paranormal happenings and untrustworthy reality shifts. But I was so thoroughly on autopilot by the time the book paid off its own name, I would've needed some expertly horrific imagery to snap me out of it—which was not provided. But, again, if you were stewing in fear the whole time, feeling the squeeze, it would've probably been deeply unnerving and piled on the panic.
Thankfully, and necessary for a review to happen, I found one interesting aspect of the plot that kept me wanting to read it. The Luminous Dead has only two living characters in the whole story. Sometimes we get a recording or "ghosts," but it's almost entirely one woman talking to another woman through the suit's communication system. Technically, our main character is alone most of the time. I haven't seen something like that done since Black Tide, and The Luminous Dead enjoys various scenarios with this premise. It messes with how they can talk, what each knows, and how in control one is of the other's actions. And, because we're stuck with them for so long, we learn a lot about them. The main characters have gone through a ton; their goals and personalities are defined mostly by lives full of trauma and pain that's unpacked slowly until it takes over the narrative. I think there's a little too much reiteration in these emotional moments, hammering at the same pain without adding new information, but it carried me far enough not to give up—and then I stayed because I was so far in and wanted to know how the book ended.
The Characters Are Often The Big Reason To Stay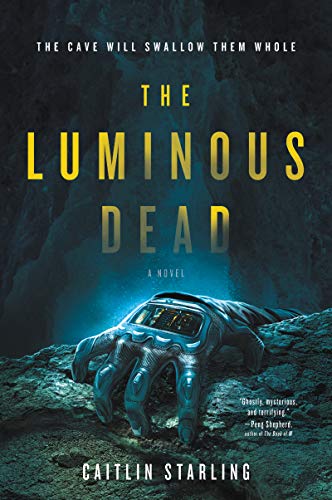 But I didn't like either character by the end—so jokes on me, I guess. I'm not even sure if that's the intended effect. Their relationship, sometimes romantic, sometimes platonic, sometimes business-like, sometimes sexually charged, and often actively abusive and angry, oscillates in narrative tone and framing. The prose and dialog make a point to comment on how shifting their connection is and how unpredictable it can be. But it's ultimately a super uneven power dynamic built by severe trauma; it's not healthy for anyone involved, and that was all I could focus on during the wrap-up. Now, this is a horror book, so it's not required to be happy, but the word choices and the plot trajectory seem at odds with each other, contradicting and obfuscating what the message might be. For instance, was truly positive character growth intended or even achieved? Paragraphs are devoted to calling their emotions and mindsets "broken," but then entire scenes will have an air of deep care, strong empathy, and clinging together against the dark. Is this, and the many narrative parallels between these two women, meant to show that the cycle of trauma is not so easily broken? Or perhaps they've healed in some ways but hurt each other in other, complicated ways, making the narrative not so clean-cut? If these were the attempts, it's clearly not perfectly communicated and becomes even messier when taken with other plot points.
As you can tell, The Luminous Dead is a complicated book in terms of storylines and potential themes. Its vision is precise, calculated, and its outcome polarizing. It's a novel that goes out of its way to have real-world caving and climbing terminology, taking great pains to map and track its multi-faceted and often complex internal spaces while keeping the novel's focus so narrow that its claustrophobic atmosphere never leaves completely. But it's also a book that feels like its plot goes in a circle, only adding to itself by repeatedly brutalizing our main characters—using body horror, psychological horror, and general descriptive choices in ways that might even be problematic. And, even when the horror is more controlled and thoughtful, if one part of The Luminous Dead doesn't work for you, it can feel like nothing happens for very long stretches, and the ending has so many aspects that might simply leave you upset about having made the trip.
Possibly Related Posts:
Comments