Invader Zim Returns! DOOM!
Hello Invader Zim, We Have Missed You
Did we need more Invader Zim? Uncharacteristically of me, I'm saying yes, we did. Nothing I have ever seen is like Invader Zim—it was on another level of strange, of weird, of dark. Sure, shows like Rick and Morty have some truly twisted stuff, but Invader Zim was made for kids.
And it blew my mind. The plot was strange; the characters certainly memorable. But, really, the thing that got me was the depictions of most adult characters. Everyone in this show is disgusting, melodramatic, and insane. The whole show seemed to be fed up with modern society and take constant potshots at it.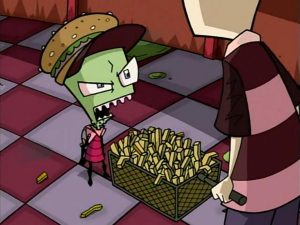 Invader Zim Had Some Seriously Strong Cynicism
And, I'm okay with more of that. I think there should be children's cartoons that are just flat out cynical and angsty. Some kids like the macabre, some kids like gross things, and those people should have a way—a media outlet—to get it without exposing themselves to horror movies or shows that are beyond their years.
And, if this limited trailer is enough proof, this new movie keeps the spirit alive. The character designs are suitably ugly—and yet stylish—and the sense of humor appears to be intact. The slightly updated animation style, I'll admit, threw me a bit, as Zim's world is supposed to look dirty and ugly—and these scenes are perhaps a little too cleanly animated—but Dib looked suitably disheveled in a few scenes, and that random woman slamming into the glass with teeth like pieces of chalk gave me hope. That woman is peak Invader Zim.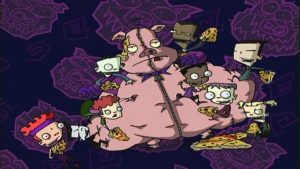 The Grimey, Gross Look Of Invader Zim Is Distinct
And I want peak Invader Zim.
It's time for GIR to make us smile again, for Zim to be both lovable and a sociopath, for Gaz to be secretly a genius, and for Dib to fail constantly to get anyone else to notice anything weird.
I may be blinded by nostalgia goggles here, but, if I can't have my sequel to Codename: Kids Next Door, then at least give me my favorite "doom" screaming alien and make him like he never left.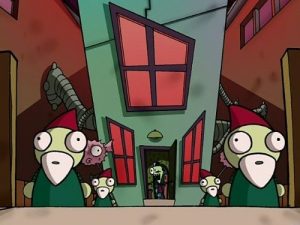 Possibly Related Posts:
Comments