Game of Thrones: Thoughts on What's to Come
I know I've said it before, but this time, it's a whole 'nother level: Game of Thrones has really gotten back on its feet as a show.
This episode was packed with the energy, pacing and drama we haven't seen since the first two seasons. And now it's back in force, driving every naysayer (including, to an extent, myself) out the front door (I say "to an extent" because I've never doubted the show's ability to produce great work, only the consistency of such).
I have a few thoughts on what's going to happen next:
DANY: I can't help but think that Daenerys' entire storyline in Meereen might have been a waste. She seemed so irrelevant there, and now she's essentially where she started, or rather where she was when she arrived there, an army ready to take over the world at her feet. What I'm wondering is whether we'll actually see a change in character based on her losses in Meereen. My hope is that a more thoughtful Daenerys (while still confident) will be leading these new Dothraki riders into battle. Daenerys, Slayer of Khals. That's crazy. ALL THE KHALS ARE DEAD! SHE JUST STRAIGHT UP KILLED ALL OF THEM!
ARYA: Arya was nowhere to be found this episode (unless I just blanked out and didn't notice). I can only hope we're going to see a lot more of her next time. I believe we got a glimpse of her future deeds in the "coming attractions" section at the end. One thing I find interesting about her is the way she is being beaten into a willingness to "have nothing," which directly correlates with another character on the show who believes we should all have nothing. It's quite fascinating actually. Let's hope that her newfound certainty in being "no one" leads to the ability to let go of the few left on that list of hers, and thus truly attaining victory over them.
JON & SANSA: Jon Snow and Sansa Stark, I just have one thing to say to you two: it feels so good to see you together again. This further validates a theory I have around the Starks, which I still haven't written about on this site. Good. One other thing it does: ah, yes, more war in the North. I'm wondering what the political implications of this conflict will be. Will Jon Snow truly be able to unite former bannermen of a house he is bastard to by his side? Only time and his actions in the coming days will tell.
THE THORN IN MY SIDE: Pardon my French but fucking Ramsay. Here's the thing though, I didn't like the death. I feel as though Osha deserved something more memorable than attempting sex and being stabbed for it. And what's worse is we don't know what George R.R. Martin originally intended for her, so she could've been offed too early, like so many were in seasons four and five. I'm not saying it's a horrible death or that it doesn't make sense, but we don't know. These last two seasons are designed to wrap up the show. They could be rushing it, or they could just be following the man's orders. Who knows? Either way, Ramsay is sick and doesn't deserve anything less than a flaying (PLEASE, PLEASE, PLEASE LET HIM DIE THAT WAY).
NO LONGER REEK: Theon! God, I love this guy. I mean, screw him for literally ruining everything in the North by being an ignorant child, but yay him for rising above that and actually managing to carve out an identity for himself. Now I guess we're going to have a Kingsmoot. Something tells me this is all part of solidifying the various leaderships throughout Westeros who are going to eventually have to unite against the White Walkers. THAT will be exciting (and also probably rushed because they want to do seven seasons instead of eight or nine. Okay, I'll stop picking on them for that).
BLONDE PEOPLE: The Lannisters deserve the throne at this point, I'm serious. Here's the thing: the High Sparrow, I tend to having an inclination of sorts toward his ilk, just because I think that people rely too often on material possessions in this world to make them happy. However, he is the extreme of that viewpoint. That's his problem. He's just too far the wrong way, or rather the right way, and so his actions are a perverse form of the truth. That's why I hate-love this guy so much: he's right and wrong, not unlike the Guilty Remnant from HBO's The Leftovers (THIRD AND FINAL SEASON COMING).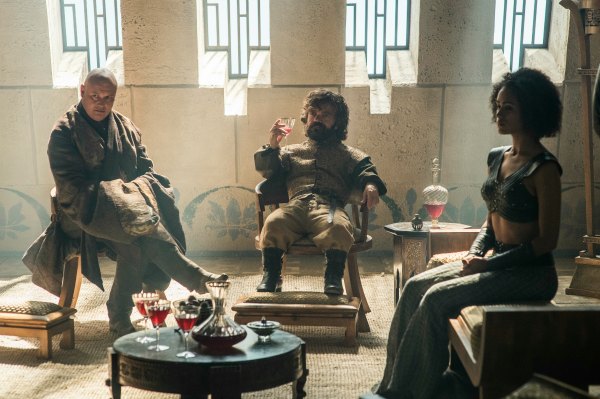 TYRION: Oh, oh! One more thing! Tyrion, you are so in trouble right now. A part of me wants to believe you'll be totally okay at the end of this, but I feel as though there's no chance. You're going to die and it's going to suck and it's going to have something to do with lack of foresight. Unless Daenerys comes in and save your ass, then you're good.
PETYR: Oh, and Littlefinger is just Littlefinger, the most dangerous man in Westeros.
That's everything. What were your thoughts on last night's episode? Comment below and let me know! And check out the rest of the site for sci-fi news, fiction, etc.! Have fun! GET OUT AND VOTE!
 If you enjoyed Dylan's thoughts, you can find the rest of his work on Sci-Fi Bloggers by clicking HERE, or follow him on Instagram, Twitter and Facebook.
Possibly Related Posts:
Comments