ARROW: Smoak Break – An Exclusive Interview with Charlotte Ross
I had the enormous pleasure of talking with actress Charlotte Ross this week about her upcoming return on the CW's fan favorite Arrow, as Donna Smoak. Charlotte was kind enough to give us some tidbits on what it's like to play Donna and what to expect from season four.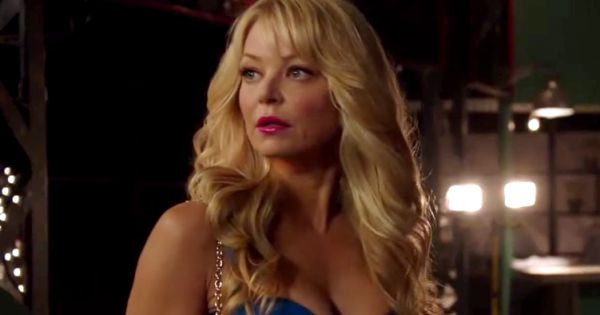 CF: I love Donna Smoak. She just seems to love everything so much. Is she a fun character to play?
Thank you! I love Donna Smoak as well! She is a blast to play! I think that she has a vulnerable, little girl, innocent naiveté that is endearing, but it's also gotten her in a bit of trouble as she has chosen to trust some of the wrong people in her past. She's had some bad luck and been burned a lot. I really want to make sure that as excited as she gets, it's based in grounded, honest truth. She is very multi-layered and that is a true joy to play!
CF: I remember your character on Glee was more of a "not allowed to love" type, but you do both so well! Do you like playing the more tortured characters or the bubbly, vivacious kind?
You're right! My character on Glee was vey guarded, wound up too tight and scared of everything. She cared too much about what other people thought of her and her family as well. Donna is the opposite, because she isn't guarded at all.  I like playing all kinds of characters. To be honest, I think of myself as a character actress more than anything else. People [in the entertainment industry] have a tendency to want to paint actors as one thing: the sexpot, victim, bully, comedian or better at drama than comedy, etc. That is frustrating to me as I love dark, tortured drama and I adore playing more comedic roles as well. I've had to fight to get cast in some of my more down and out, non-glam roles and I love those! The pretty girl next door really didn't appeal to me that much, you know? As long as each character has levels, something to overcome and is written in a way that forces me to get out of my comfort zone and try new things. I have found myself going back and forth between comedic characters and dark tortured characters as it's fun to shake things up!
CF: What's more important when playing a motherly role: is it your own experiences, the words on the page or do you like to strike up a bond with the other actor?
I played a teenager for almost 20 years! I was afraid that was all I was ever going to play, at one point, and it's funny to look back on that now. I'm a single mother of an eleven year old so I can relate. Being a mother adds another level of feelings, fears, happiness and protective layers so I enjoy it a lot, but, it's 
vital
 to have a chemistry of some sort with whoever plays your child and I struck gold when I met Emily Bett Rickards! She is a beautiful soul who is a joy to work with. I love and respect her immensely. She is hilarious as well and keeps me laughing almost all day!
CF: I was so happy to hear that you're returning for Season Four! What is Donna getting into in Star City?
Season four has been a blast so far! I've shot three episodes and am headed to Vancouver to film more next week. One of the wonderful things about TV is that stories evolve and are ever-changing. The "powers that be" and the writers get a chance to see what is working and what isn't and are able to write on a path that may not have been originally planned. For example, I wasn't brought in to be the love interest of Dennis Franz [on NYPD Blues]. That just grew organically on it's own and the writers saw that and jumped on it. Emily is a perfect example as well, because she was a one-day guest star and was just so wonderful that her role grew and grew and now she is one of the most beloved characters on television today and a huge part of Arrow. I'm not sure what they had originally planned for Donna when she came to town but I'm thrilled the role is getting more textured with Emily, the involvement of the wonderful Paul Blackthorne [who plays Quentin Lance] and there are plans to bring in my ex-husband on the show, which I'm so excited about! So we will see what they decide to do with this awesome character in the future. I just know I'm thankful to be a part of the Arrow family.
CF: I hope that means you'll be interacting with more of the cast in Arrow. Is there anybody in the entertainment industry you'd love to work with?
I would do almost anything to work with Meryl Streep or Cate Blanchett, and I find Mark Ruffalo to be one of the best actors working today. It would be a dream come true to work with them.
CF: You've had a variety of roles in the past like Days of Our Lives which I imagine is sort of hectic to film and then your wonderful Det. Connie McDowell on NYPD Blues, but I have to ask what your favorite has been?
I've been blessed to be a working actor for almost 30 years now and it's hard to pick a "favorite," you know?
Days
 was a dream come true, because, at the time, I had been dreaming and trying to get work as an actor for years before I got it. Those four years were invaluable training for me. I loved being a part of the sitcoms I was on. A live audience with jokes that can't fall silent was a rush! Then, I
loved
 playing Lori Valpone on Showtimes'
Beggars and Choosers
 for two seasons. That was my favorite medium-dark, fast paced, non obvious "dramedy." But I also loved playing opposite to Nic Cage [in
Drive Angry
]. Yet, the empowerment of playing a strong female detective in NYC and opposite the majestically talented Dennis Franz was one of my happiest times as well. Now on
Arrow 
I adore the cast and crew so much so… I just can't pick a favorite!
CF: If you could choose one role to either adapt or reimagine what would it be?
Lori Valpone on Beggars. I would love to play some version of her again. She was a shark. Unbelievably smart and yet deeply vulnerable, but showed almost no one. And she was involved behind the scenes of a TV Network so the inside jokes were awesome!
CF: Arrow has a very dedicated fan community and from what I've seen they adore you! What's it like to be a part of this new "fandom" culture?
I feel very blessed that the fans have showered me with so much support! I feel honored and humbled and I don't take it lightly. They know the show very well and I respond to as many as I can as I want them to feel heard, understood and respected. To be honest, I don't even know if the role of Donna would've grown the way it has without their support. I just want them to know how much I appreciate them!
CF: It's still strange to me that we're given these platforms like Twitter and Instagram and we're directly connected with our favorite entertainers. Is there anyone you would have creeped on social media when you were a teenager?
Yes! I wrote a fan letter to Tom Cruise back in the day. Risky Business was filmed where I grew up and, like his character wanted, my father went to Princeton and many people I grew up with went to schools like that so I felt that Tom would "get me!" So, I guess, if social media was around at that time I may have made a Twitter fan site for him and tried to reach him, but I don't know. I'm creeping myself out now!
CF: Donna is obviously a great mother and Felicity is a fan favorite, but everyone is obsessing over who Felicity's father is. Do you think we'll ever get to see the man of mystery?
Emily and I are both 
very
 excited to finally meet and have scenes with my ex-hubby/ her father! Donna has eluded, many times, that he didn't treat me well and left Felicity at a young age. To the extent of how bad or good he was we don't know, but I know the writers are planning it. We just don't know when it'll be or what'll happen!
Check out the last episode before the midseason finale of
Arrow 
tonight on the CW, and catch up with Charlotte over on
Twitter
, Instagram and
Facebook
!
If you enjoyed Carly's smoaking, you can find the rest of her work right HERE on 
Sci-Fi Bloggers. 
You can also follow her on Twitter @MrsCarlyRodgers.
Possibly Related Posts:
Comments